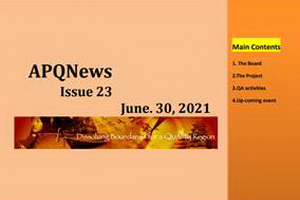 Asian Pacific Quality Network Newsletter (APQNews) dated June 30, 2021, issue 23, published an article about the webinar "Students' contribution in quality assurance in higher education'', held on May 18, 2021. The event was initiated by Eurasian Centre for Quality Assurance in Higher Education and Health Care and supported by the Asian Pacific Quality Network and Kazakhstan Medical Students' Association (KazMSA) which is a full member of the International Federation of Medical Students Associations (IFMSA).
The webinar was one of the ECAQA events to expand students' knowledge on accreditation process and strengthen their role and influence on internal quality assurance process in higher educational institutions and TVET organisations in Kazakhstan. Moreover, the webinar described ECAQA experience on students' involvement in internal and external process of quality assurance.
The APQNews is a half-year periodical newsletter that shares the news and events in quality assurance across APQN member organisations.
Please, find the article "Students' QA contribution: ECAQA Vision and Experience'' in the journal attached. [Download]